German Blocked Account for Indian students !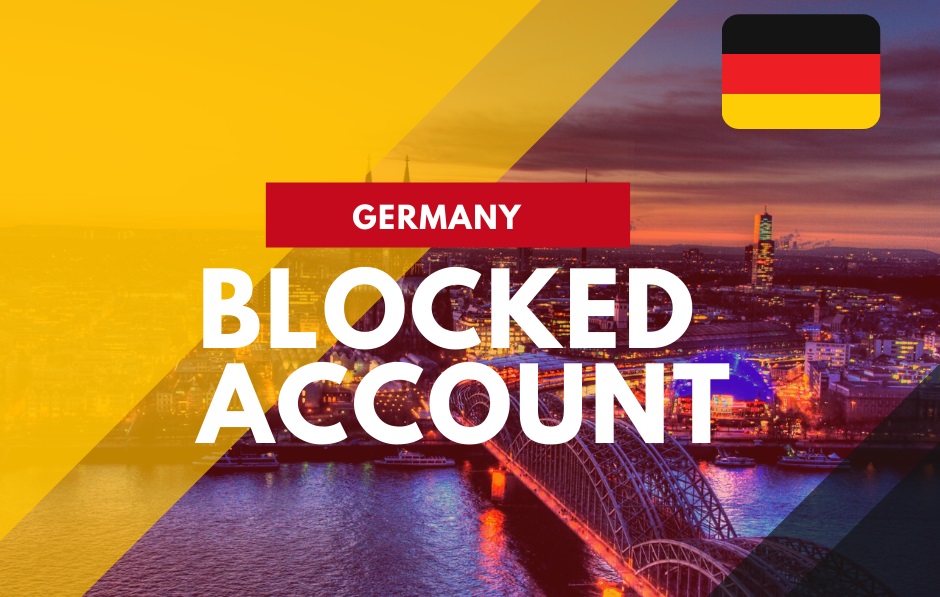 15 minutes read about Blocked Account!
Before getting a German visa, and well before starting a course at a German higher education institution, foreign students need to open what is called a Blocked Account or "Sperrkonto" in German. Most probably, not many of you have encountered this kind of account before, but if you decide to move to Germany, it's important to understand how it works to ensure a seamless visa application experience as well as a comfortable stay in the country. We will be giving you an overview of our Recommended Blocked Account provider ie Coracle and the reason behind our recommendation, Which you should read before deciding to choose another Blocked Account provider.
What is a German Blocked Account?
A Blocked Account is a way of proving to the German state that students have the financial means to support themselves for a certain period. In many cases, the Blocked Account is a visa requirement. A Blocked Account is not a regular current bank account that all of us are used to. The main difference is that by opening a Blocked Account you will not get direct access to your funds and you will not get an ATM card. There will be no opportunity to pay for goods/services directly from your Blocked Account. Instead of that, you will be receiving regular monthly disbursements from your Blocked Account to your regular current bank account. You can treat it as a monthly allowance which should cover you're living expenses.  
Normally a Blocked Account is required from those people who do not have a stable and sufficient income within Germany. For example, students or language students, au-pairs, scholars, interns, etc. From 1 January 2021, the amount required to be deposited into the German blocked account when applying for a student visa to Germany is €10,332 or 861€ per month for your planned stay (up to 12 months) 
 Blocked Account as a Visa Requirement
A Blocked Account is a compulsory aspect of the application process for a student visa and therefore you need to take it seriously and not postpone it till the last moment. It's a good idea to arrange all of the bureaucratic aspects of your future studies in Germany in advance and a Blocked Account is one of those aspects. Be prepared that it will take some time to open it and plan accordingly.
In the past, opening Blocked Accounts in Germany has been fairly time-consuming. Applicants used to wait for weeks from the moment they submitted their application to approval of the account. However, digital providers like coracle have accelerated the process, allowing students to set up a Blocked Account in minutes. 
What Coracle Offers:-
Blocked Account :
Best price. One time 99 Euro Fee. NO monthly fee. Coracle PRIME package: BA just 59 Euro, no monthly fee.
Fully digital. A couple of hours to get account opening confirmation 
Easy activation. No need to have any video calls or going to the post office in Germany to activate the account 
Zero fees if visa gets rejected (goodwill)
Available for minors (<18>
Immediate fund confirmation through partner money transfer service. Fastest in the market now. 
Travel Insurance: 
FREE as a welcome bonus with German Public Health Insurance
Unlimited coverage (30.000 Euros is the regulatory requirement)
No self-payment for a doctor's visit.
ERGO. One of the big German Insurance provider
Accepted by all German Embassies / Consulates
Health Insurance:
Only providers with Different choices of Public Insurances (AOK, Barmer, TK, etc)
No additional charges
Get confirmation certificate in few hours
Money Transfer:-
Here we have heard many stories about difficulties in sending money, the processing time, high banking fees and costs for money exchange, and plenty of extra documents required due to banking regulation.
Our Opinion on the money transfer:
Speed: if you are in a hurry you want the money to arrive fast. Coracle has partnered with an international payment provider called Remitout.com, Funds are received instantly to your Blocked Account. (Our reason of recommendation )
Flexibility (Third-party transfer, excess funds, etc.): So many things can go wrong in international transfers, so you certainly do not want to be stuck and searching for your money, or being forced to provide additional documents, which applies for Bank transfer.
Costs: Be aware that your banks might charge a lot for an international bank transfer. They earn by adding banking fees and especially with the conversion (foreign exchange, FX rate) from your local currency to Euro, Coracle has a Remittance partner ie Remitout.com where you can easily send & save a big amount of money.
The best part is, you get INSTANT FUND CONFIRMATION FROM CORACLE.
The faster you get it, the more peace of mind you have.
Activation:-
When you come to Germany, the Blocked Account has to be activated. This requires additional verification, e.g. providing a copy of your visa document, a German address, and a current bank account. The most important factor in the activation process to be taken into consideration; once activated, you will receive your pay-outs and everything usually goes its way smoothly. You do not want to get stuck here as it would mean that you would be out of money, not being able to pay rent, insurance, etc.
Customer Service: Coracle is available throughout business hours (CET) the entire week 
Customer reviews: 
Popular Post